Running since 2017, CoderDojo at Mary Immaculate College is an extremely popular programme with children from around the region. The workshops teach children how to code through the development of interactive games, stories and animations using Scratch – a block based visual programming language used around the world. Each week, the children engage in a fun and interactive coding challenge and project. Pre-service teachers from MIC are asked to volunteer to guide the CoderDojo attendees, known as Ninjas. These students assist the children in learning to code and provide support as the children complete their weekly challenges. The coding sessions benefit the children in many ways through the development of key literacy and numeracy skills, such as sequencing, variables, teamwork and communication skills, as well as
higher-order thinking, creativity and problem-solving skills.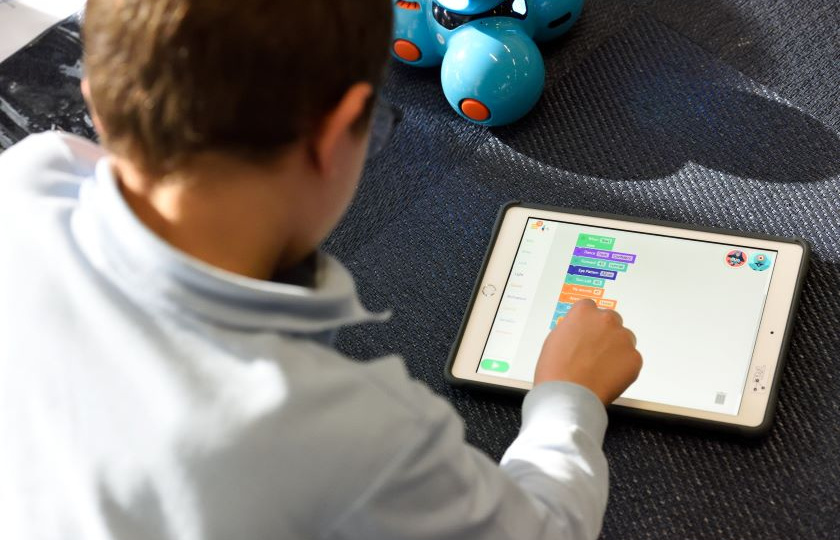 Programme Outline
The free CoderDojo sessions are delivered once weekly at the CRAFT Maker Space over a 4 week block typically in Spring.Pre-service primary teachers at MIC students act as 'Dojo' mentors during the coding sessions.These MIC students teach the children and their parents how to code and facilitate their learning and provide support in completing their weekly challenges.
The Coder Dojo sessions are designed and delivered by the team at the CRAFT Maker Space and industry partners. Bringing education and industry together in delivering a bespoke coding programme to children and adults in developing key IT skills, computational thinking, logic and critical thinking skills. This STEM educational outreach involving the education sector and industry also ensures participants can link activities they are completing directly to skills needs and future careers.
Programme Rationale and Impact
The coding sessions have two very significant objectives, to develop key IT skills, computational thinking, logic and critical thinking skills among our younger generation, and also to develop digital literacy skills in our  future teachers to integrate STEM effectively right across the curriculum. 
Since the running of the first programme in 2017, the CoderDojo workshops continue to grow in success, so much so that the places on the workshops are booked out almost immediately. Since 2017 the CoderDojo workshops have taught 150 children and their parents how to "code" whilst engaging almost 200 of MIC's pre- service student teachers to teach and support the children in their learning.
Industry Participation
We welcome any industry partners who would like to collaborate with us on the CoderDojo programme.  Please contact us for more information on how to get involved.